Corporate FPS Services
Manage business with ease through online real-time interbank fund transfer
By utilising Faster Payment System (FPS), you can now conduct instant online transactions1 anytime and anywhere by following a few simple steps and efficiently transfer HKD or CNY funds to beneficiary accounts with other banks / financial institutions in Hong Kong. Manage your business in a faster and simpler way.
Key Features of FPS Functions: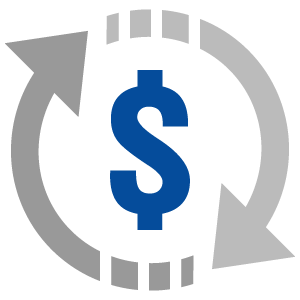 Real-time1
Funds in HKD and CNY can be collected or remitted to accounts held with other local banks on a real-time basis, catering to your financial needs at anytime
7 x 24 around-the-clock
Local remittance transactions can be conducted via Online Enterprise Banking all day around-the-clock, regardless of business hours and time zones
Hassel-free
Easy remittance transactions when using account numbers / mobile numbers / email addresses / FPS IDs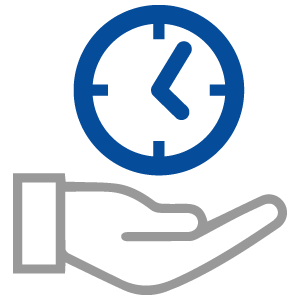 Time-saving
Funds will be processed in real-time, eliminating transaction time associated with cash or cheque processing, and letting your capital turnover become more flexible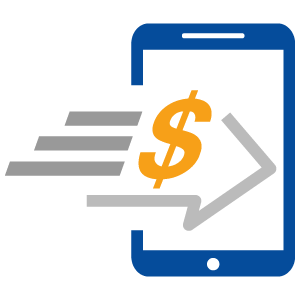 Faster payments
Through FPS addressing service, you can link-up your corporate HKD and CNY accounts with mobile numbers / email addresses or FPS IDs and set CCB (Asia) as your default receiving bank for easier fund collection upon successful registration
Cost-efficient
Low handling fee2 as compared to conventional remittance channels, saving cost and related administrative expenses
Know More about the Service:
Faster Payment System Service Demo
Step 1
Please enter "Featured Service > Faster Payment System > FPS Registration" by Master user, click "Register Now" of mobile number/ email address/ FPS ID.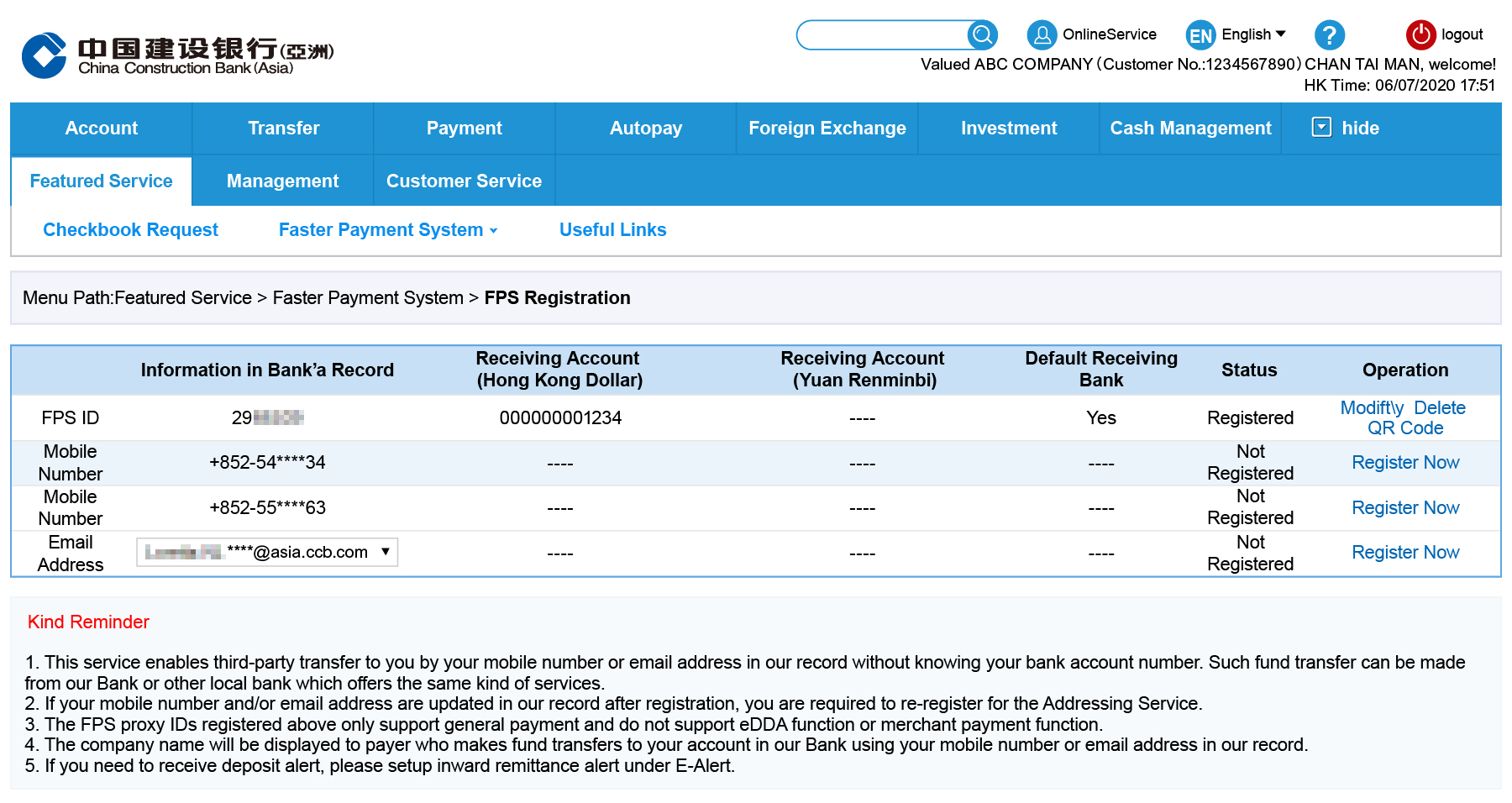 Step 2
After selecting mobile number/ email address/ FPS ID for registration, enter the registration page and choose account number (HKD and/or CNY) and set our Bank as "Default Receiving Bank".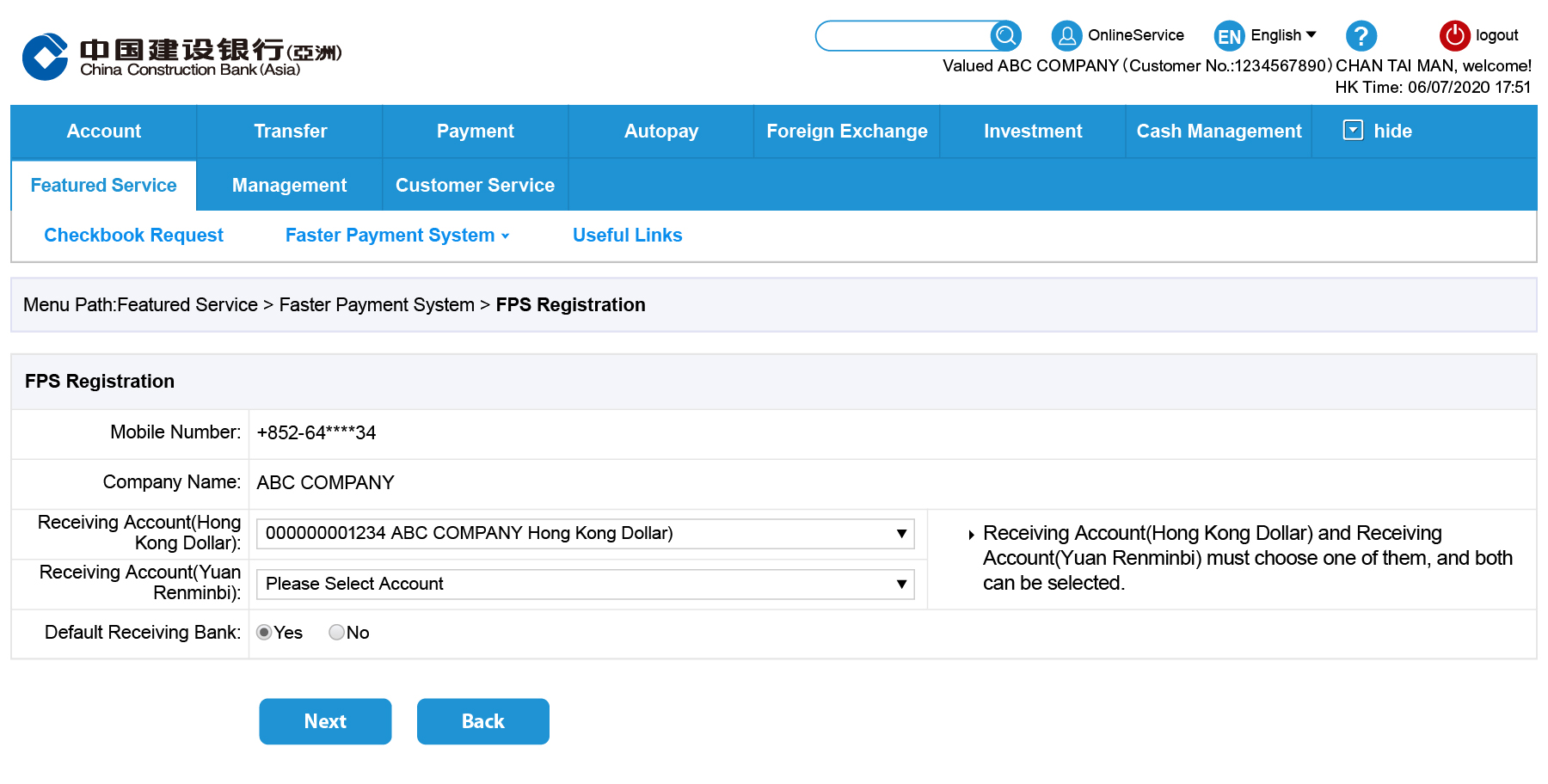 Step 3
If you choose mobile number/ email address for registration, please receive correspondent verification code and enter on Online Banking.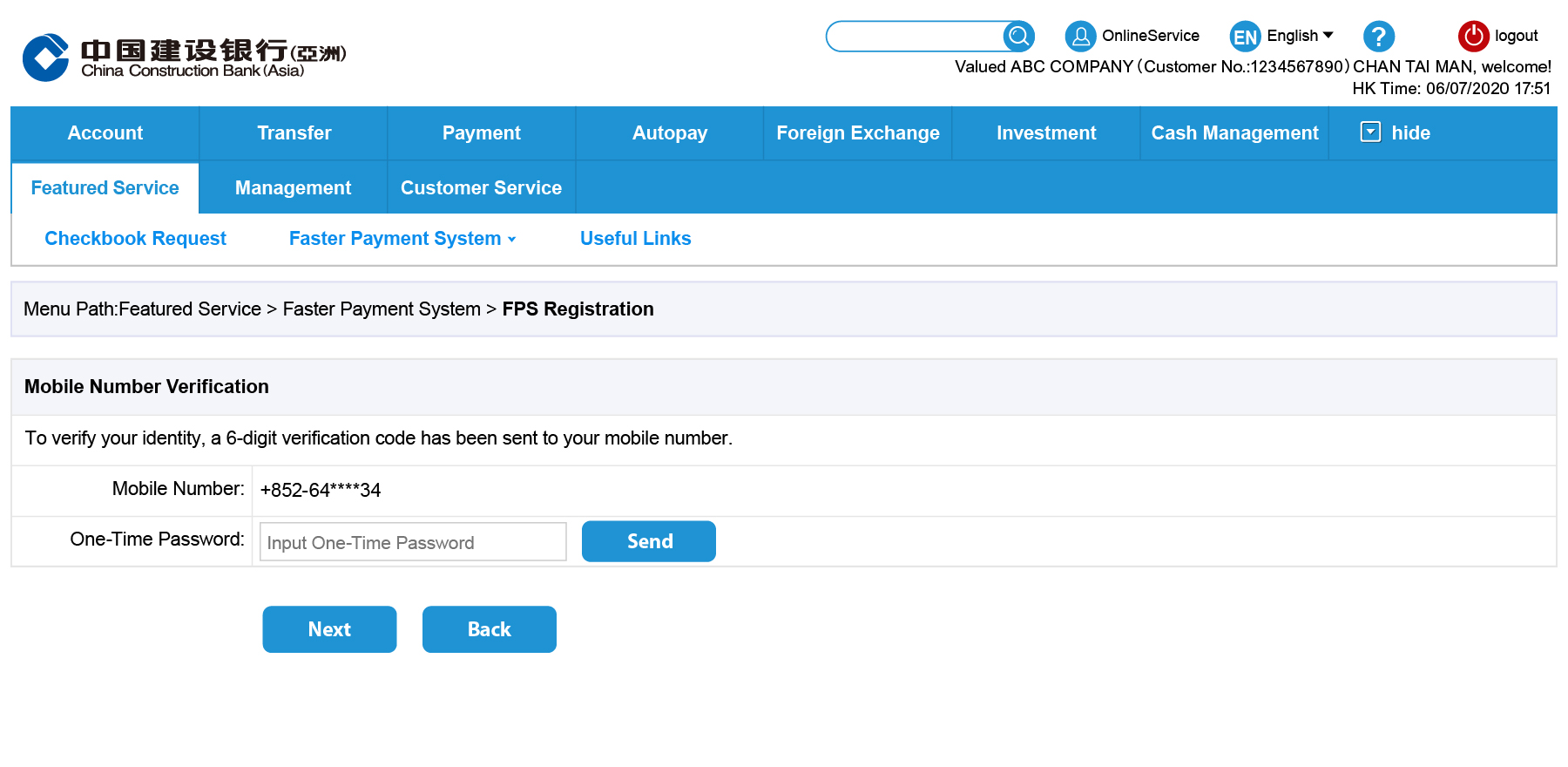 Step 4
After confirming the registration information and agreeing the relevant T&Cs, please enter the dynamic security code generated by security device and login password for verification.
Step 5
After confirmation, the registration instruction will be submitted to HKICL, please go back to FPS Account Inquiry for checking the result.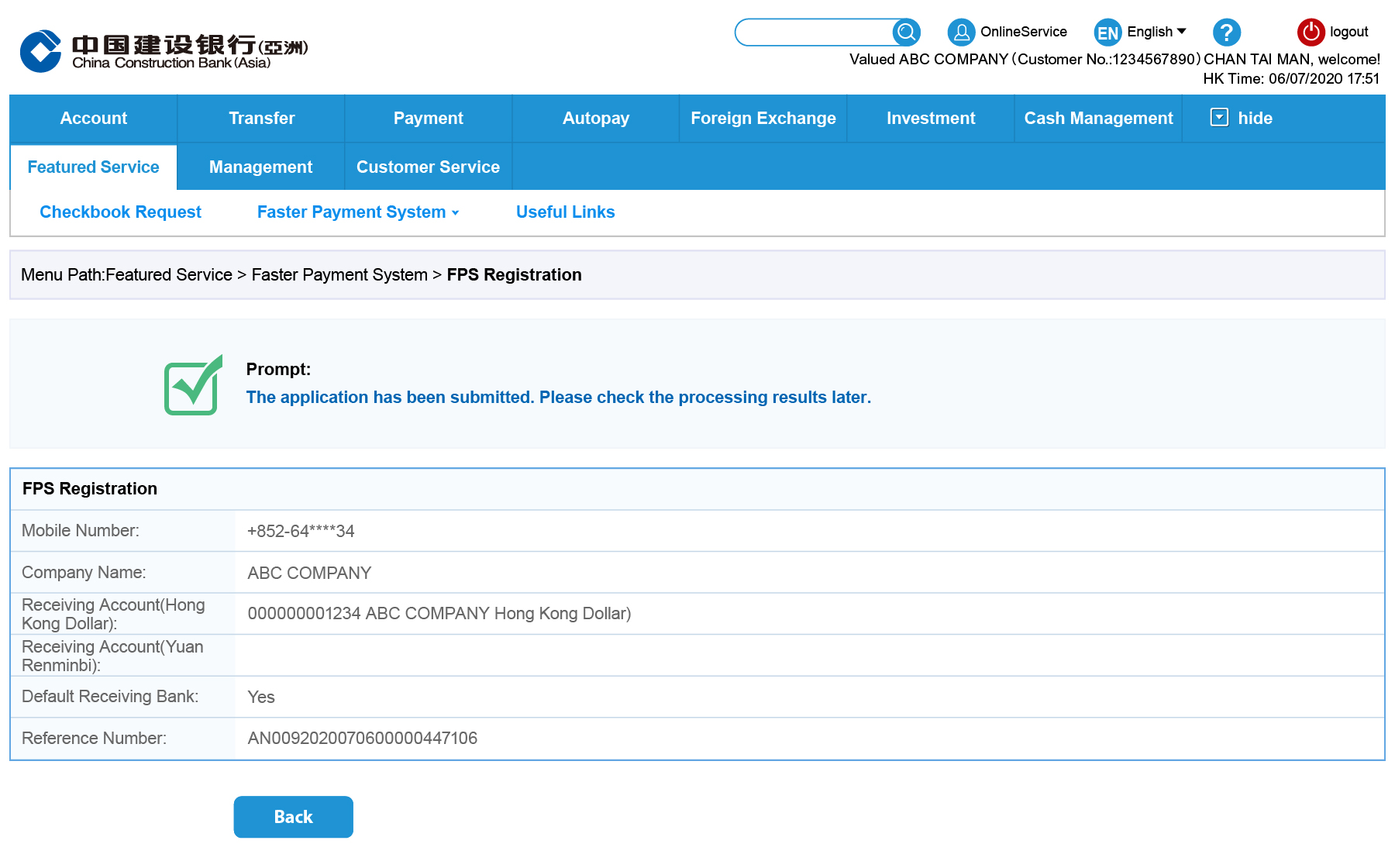 From now until December 31, 2023, CCB (Asia) corporate customers can enjoy
$0 service charge* on FPS fund transfers / remittance transactions.
Please logon to Online Enterprise Banking to experience a more efficient Payment Service now!
* At the recipient bank's discretion, charges may be collected and deducted from the transfer amount. Please check with the recipient bank for more details.
The above offer is subject to the relevant terms and conditions, please click 
here
 for details.
Safety Made Easy:
Complicated information is no longer required. Initiate 7 x 24 around-the-clock payments or FPS addressing by following simple steps anytime and anywhere.
No bank account number is required for remittance transactions.
Dynamic security code generated by security device is required for verifying transactions, in turn strengthening your service security.
Transaction notification and end-to-end encryption enables secure transaction.
Please contact your Relationship Manager for any enquiries regarding the details of relevant services.
Please Click 
Here
 for Terms and Conditions for Bank Services relating to Faster Payment System.
Remarks:
The service is available only to recipient banks that support instant transfer functionality and is subject to the relevant Terms & Conditions.
Please confirm the relevant service charges before making payments and be aware of our Bank's service charges which might be updated from time-to-time. Furthermore, there might be different service charge arrangements for fund collection in other beneficiary banks.