CCB (Asia) Pet Living Virtual Credit Card
Exclusive Pet-related Offers for Every Pet Owner
The brand new Pet Living Virtual Credit Card is specially designed for pet owners like you! You can easily make your beloved pets happier!
Fee Schedule

New Cardmember1who successfully apply for a CCB (Asia) Pet Living Virtual Credit Card and fulfill the spending requirement2 can enjoy one of the below welcome gifts3:
Remarks: Offers are bound by terms and condition. Please refer to "Terms and Conditions of CCB (Asia) Pet Living Virtual Credit Card Welcome Gifts for New Cardmembers" for details.
New Applicants must not have held a Principal Credit Card issued by the Bank at least 6 months prior to the date of application.
Minimum total spending of HKD5,000 in the first 2 months from Card issuance date to enjoy the Welcome Gift.
New Applicant shall indicate his/her choice of the Welcome Gift on the Application Form. If Applicant has not indicated his/her choice or indicated more than one choice in the Application Form, he/she will automatically be assigned "HKD100 Lego Pet Cash Voucher x5" as his/her Welcome Gift. Once such choice has been made or assigned, it cannot be changed.
Application process by CCB (HK&MO) Mobile App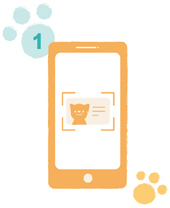 After read and understand related terms and conditions, and proceed HKID capture verification
Tips for capturing HKID card:
Avoid choosing a background with similar colour of the HKID and dim lighting
Ensure the image is clear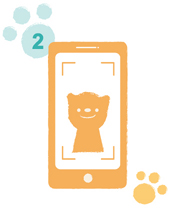 And then proceed to selfie for identity verification
Tips for taking a selfie:
Remove accessories which may cover your face
Avoid unnecessary facial expression
Follow the instructions for random movements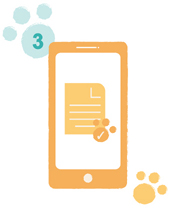 After selfie verification, fill in personal information and complete the application accordingly
Please refer to "Notes for CCB (Asia) Pet Living Credit Virtual Credit Card" for more card details.
Warm reminders:
The Bank takes all reasonably practicable means to protect the data. Encryption technology is employed for sensitive data transmission. For more details about our privacy policy on personal data handling, please read our Notice to Customers relating to the Personal Data (Privacy) Ordinance.
Customer should read the Bank's Security Tips for Online Security to improve your security from time to time to understand more about the measures you can take to enhance the security when using Online Banking Services. And it is recommended to take safeguard measures for your own protection when using the Online Banking, Mobile Banking Service and CCB (HK&MO) Mobile App.

4% Cash Rebate and Amount up to HKD800
Spend at veterinary clinics and pet-related stores* to enjoy 4% Cash Rebate and amount can be up to HKD800 during the promotion period!
Promotion period: From May 20, 2022 to August 31, 2022
*
Eligible Transactions include transactions made at pet shops, pet food shops, pet supplies retailers, pet grooming shops and veterinary services. Transactions made in supermarkets, online shopping platforms, pop-up stores in shopping malls and designated non-eligible shops defined by the bank will not be counted as eligible transactions.

26% off on OneDegree Pet Insurance
Apply for pet insurance through OneDegree designated website to enjoy 26% discount. Simply enter the promo code CCBAPET and pay with your CCB (Asia) Pet Living Virtual Credit Card during checkout.

Spending Installment Plan
Repay your spending on pet-related stores/vet clinics with a preferential monthly flat rate of 0.17%1 and up to 60-month repayment period.2
Remarks:
Terms and Conditions apply. Please click here for details.
Details for Installment Plan, please click here.
Application Hotline: +852 3179 5518. Office hours: Monday – Friday 9:00a.m. – 8:00p.m.; Saturdays 9:00a.m. – 1:00p.m.; Closed on Sundays and Public Holidays.

Pet Goods and Services
Enjoy up to 12% discount for pet products spending on CCB (Asia) partnering pet products stores/pet service providers. You can also enjoy up to half price offer at your first spending on particular pet service providers.
Details for list of partnering merchants and promotion, please click here.

Pay with just one tap
You can add CCB (Asia) Pet Living Virtual Credit Card to your digital wallets, make your everyday purchases faster and more convenient.
#Office hours: Monday – Friday 9:00a.m. – 6:00p.m.; Closed on Saturdays, Sundays and Public Holidays.
To borrow or not to borrow? Borrow only if you can repay!