Online Cross-Platform Insurance Service
Connect with FWD platform and
apply for VHIS to enjoy
40% off on the 1st year premium
CCB (Asia) customers can conveniently connect to FWD Life's exclusive online platform via the Bank's Online Banking channel and apply for designated Voluntary Health Insurance Scheme(s) ("VHIS") with ease. Hong Kong taxpaying customers who are applying VHIS for himself/ herself or specified relatives* can enjoy a tax deduction of up to HK$8,000 (for premiums paid in relation to the Certified Plan per insured person annually). Act now and enjoy fabulous offers while experiencing hassle-free and secure cross-platform insurance service!
*
Remark: Specified relatives include taxpayers' children.
To ensure successful application, please be reminded of the following:
Insured person must be the applicant or his/ her children aged 15 days to 18 years old (age next birthday)
Applicant must hold a valid deposit account at CCB (Asia)
Applicant must be a Hong Kong Permanent Identity Card holder
Applicant must provide a permanent address in Hong Kong
Connect to FWD's Online Platform via CCB (Asia)'s Online Banking to apply for insurance right at your fingertips
Step 1: After logging-in, select "Insurance Homepage" under "Insurance".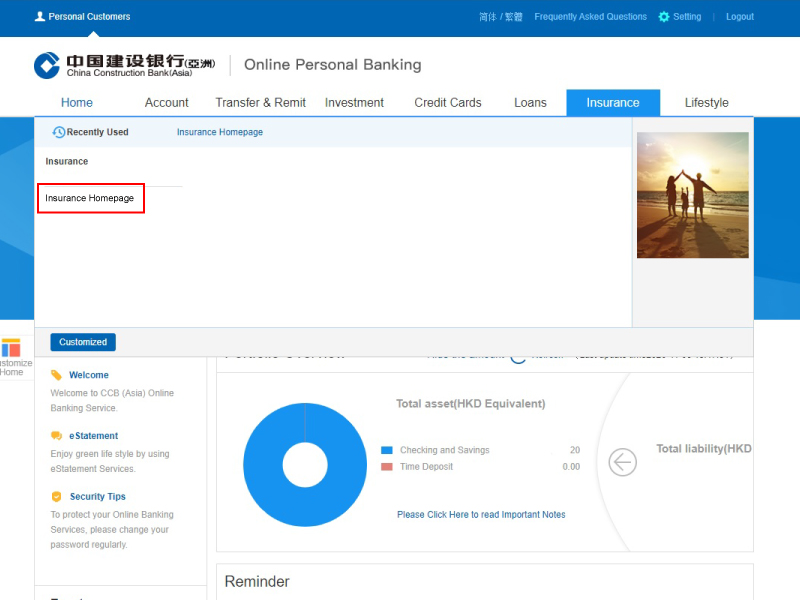 Step 2: Select "FWD Life", followed by "Learn More".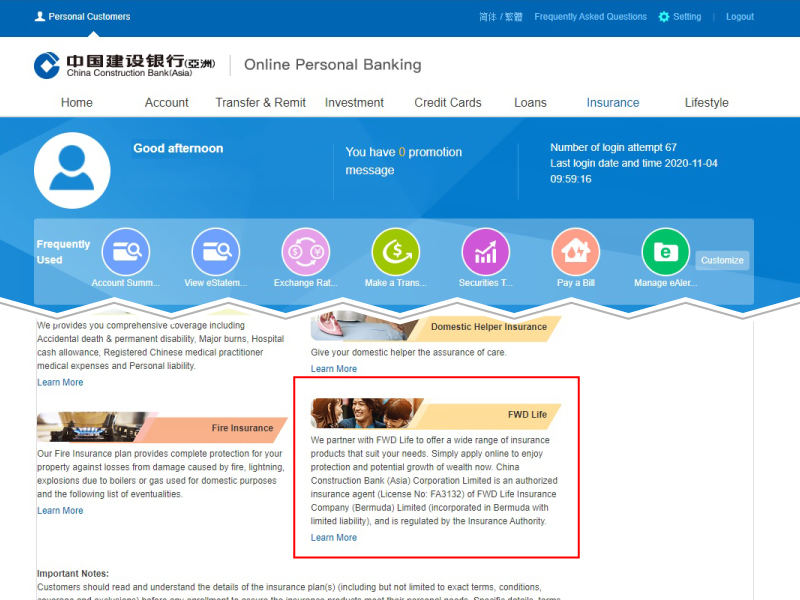 Step 3: Read and confirm the "Disclaimers" by clicking "Agree", then you will be redirected to the FWD Life Online Platform where you may instantly begin enjoying convenient online insurance application.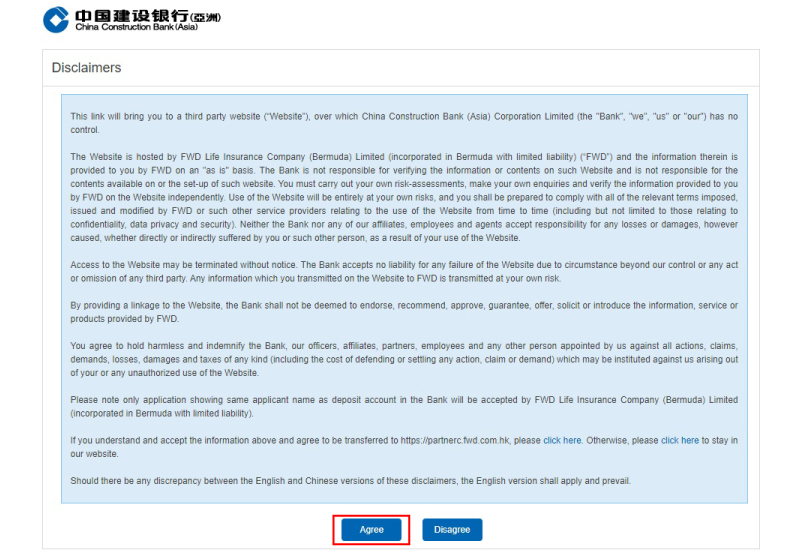 Disclaimers
China Construction Bank (Asia) is an authorized insurance agent (License No: FA3132) of FWD Life Insurance Company (Bermuda) Limited (incorporated in Bermuda with limited liability) ("FWD"), and is regulated by the Insurance Authority. The relevant products are of FWD and not of CCB (Asia).