CCB (Asia) strives to bring you a more sophisticated Investment App Service; so, we have completely revamped the existing StocksLink Mobile App. The new App will be renamed as FortuneLink Mobile App (the "App"), and will be launched in December 20201. The newly updated App comes back with an enhanced trading platform to bring you a sleek user experience, and help manage your wealth even more efficiently at your fingertips.
If you have registered our Personal Online Banking and Mobile Banking Services, you can log on to FortuneLink Mobile App immediately.
Overview of Key Functions



Place the order with simply a few clicks!
Trade Hong Kong and Shanghai Stock Exchange (SSE) Securities more easily.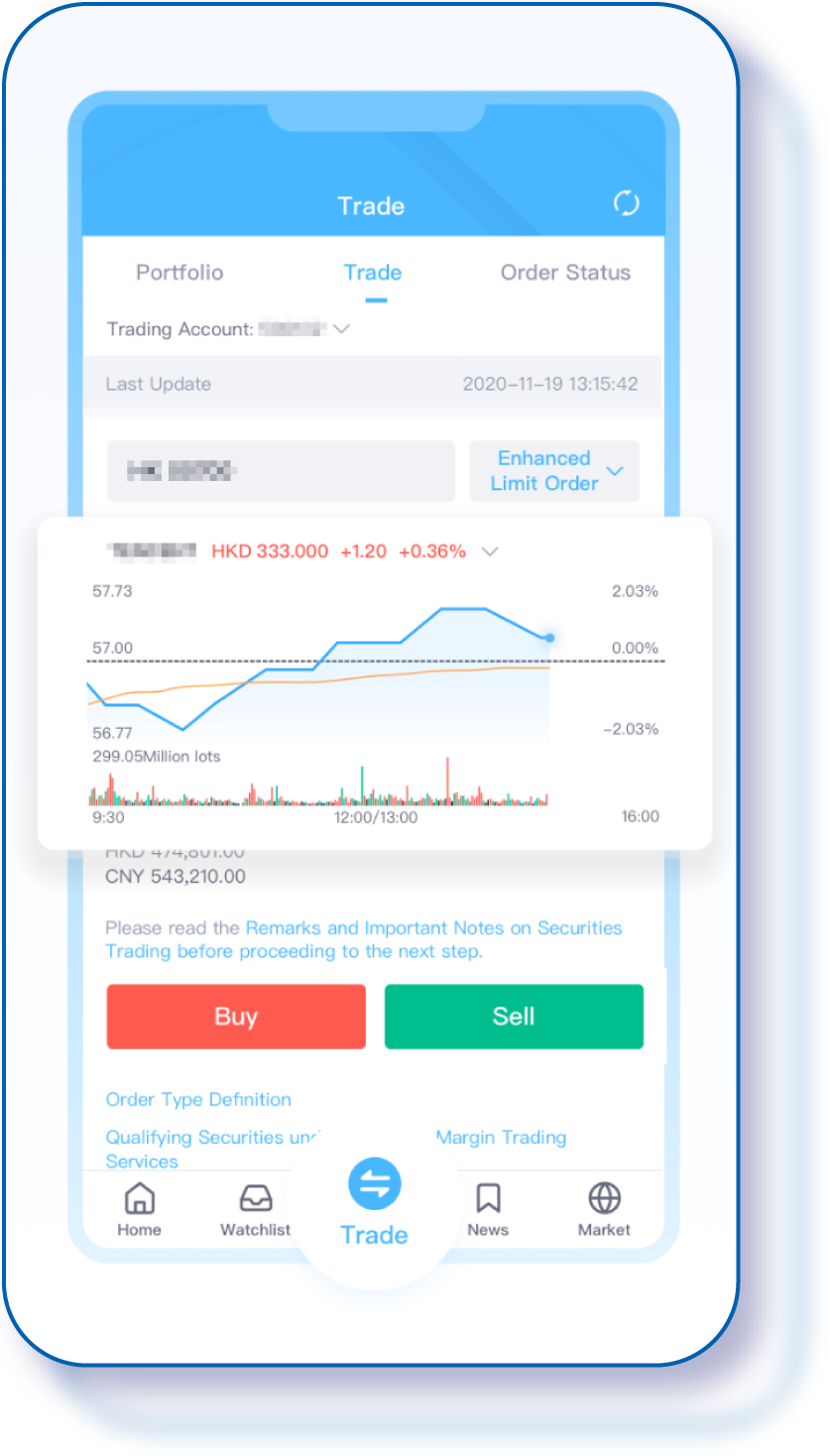 7x24 News and comprehensive Market Information with Push notifications – to help you stay abreast with all the latest market movements.
Keep pace with market trends, get Real Time Quotes around the clock, and seize trading opportunities.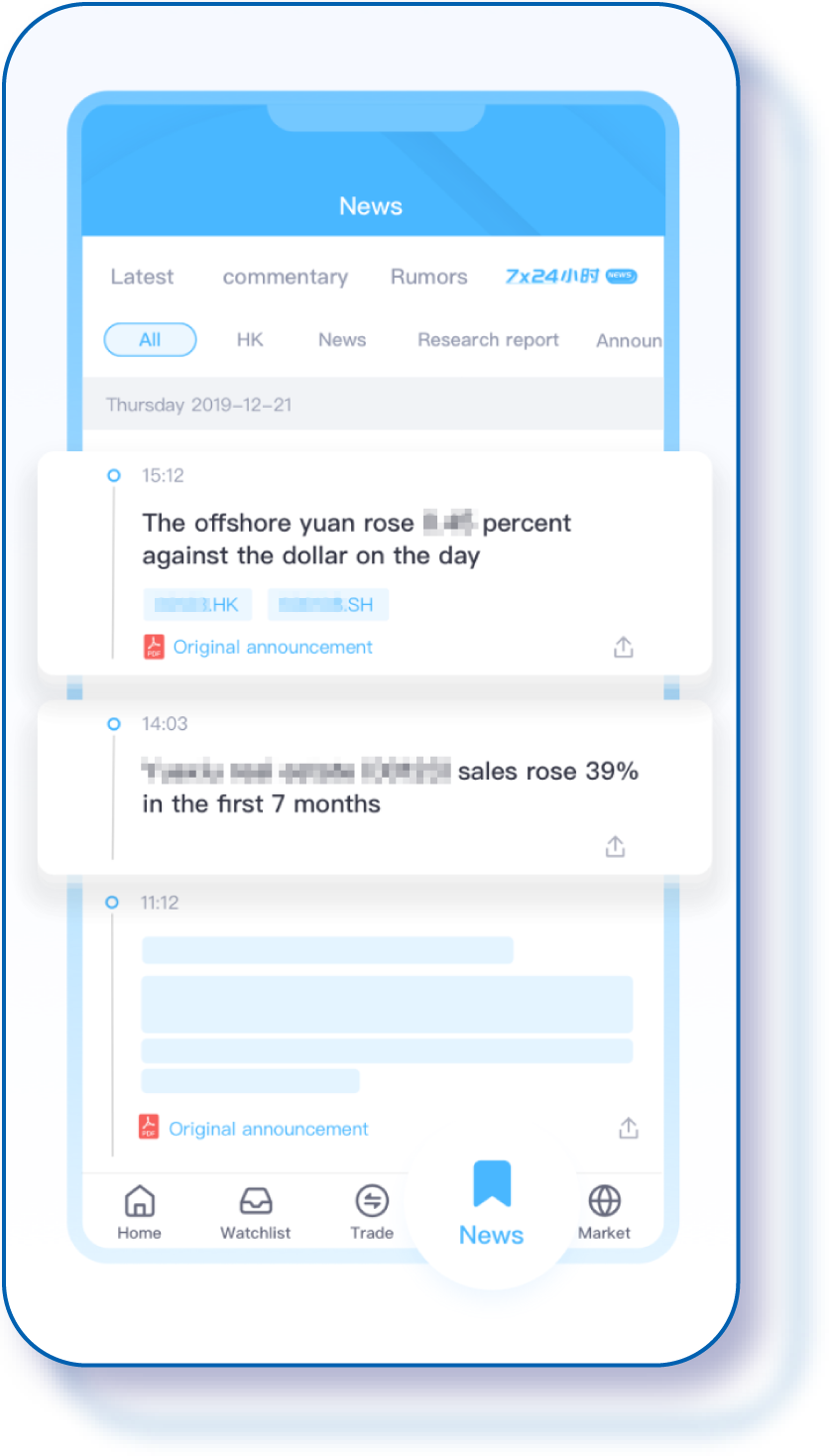 For Novice Investors – our Trial Trading Service helps you to get familiar with market conditions.


Customize your Stock Watchlist with the Price Alert function to help you capture every investment opportunity.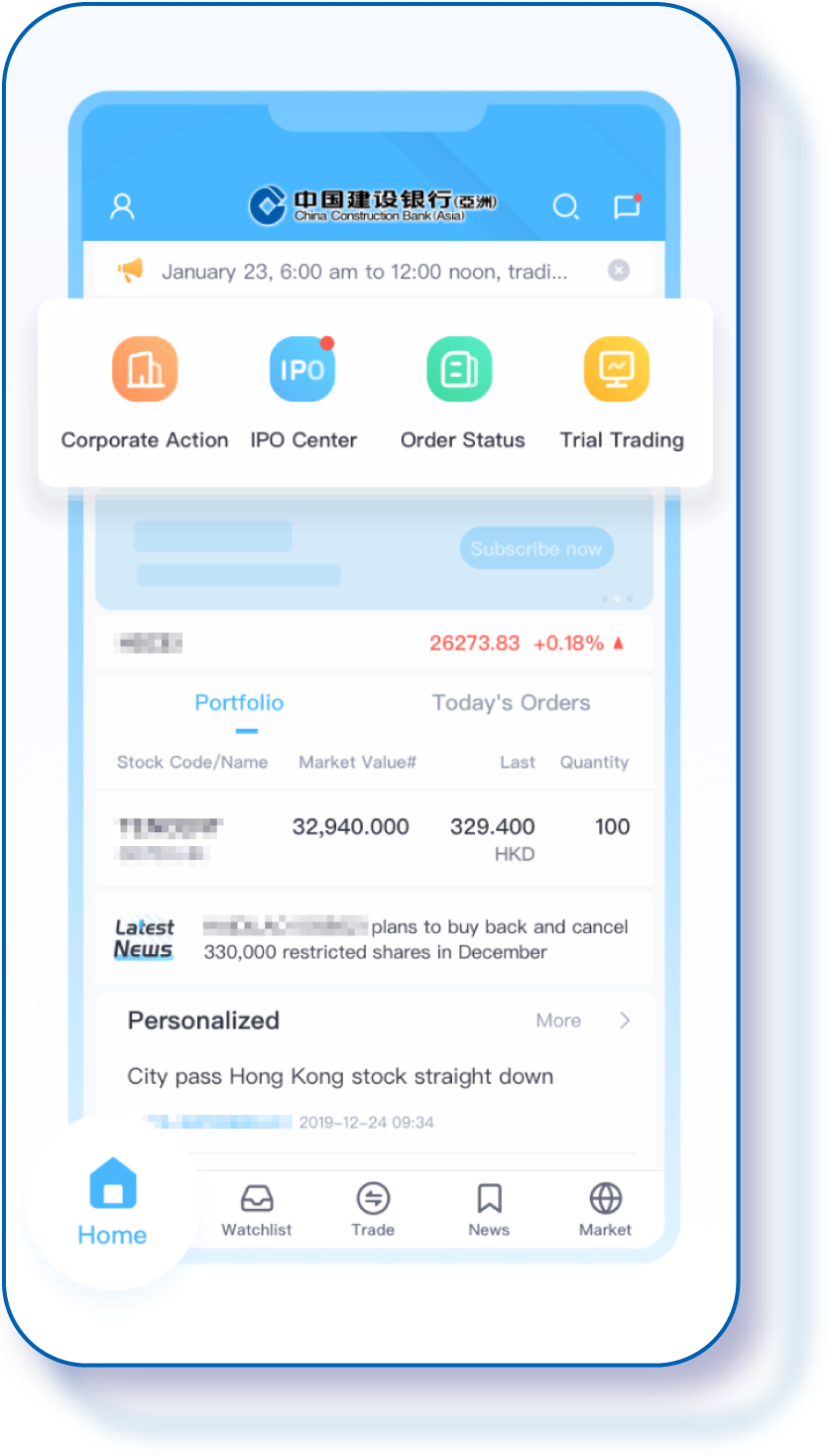 Subscribe to IPO and check your application status with the App – anytime, anywhere.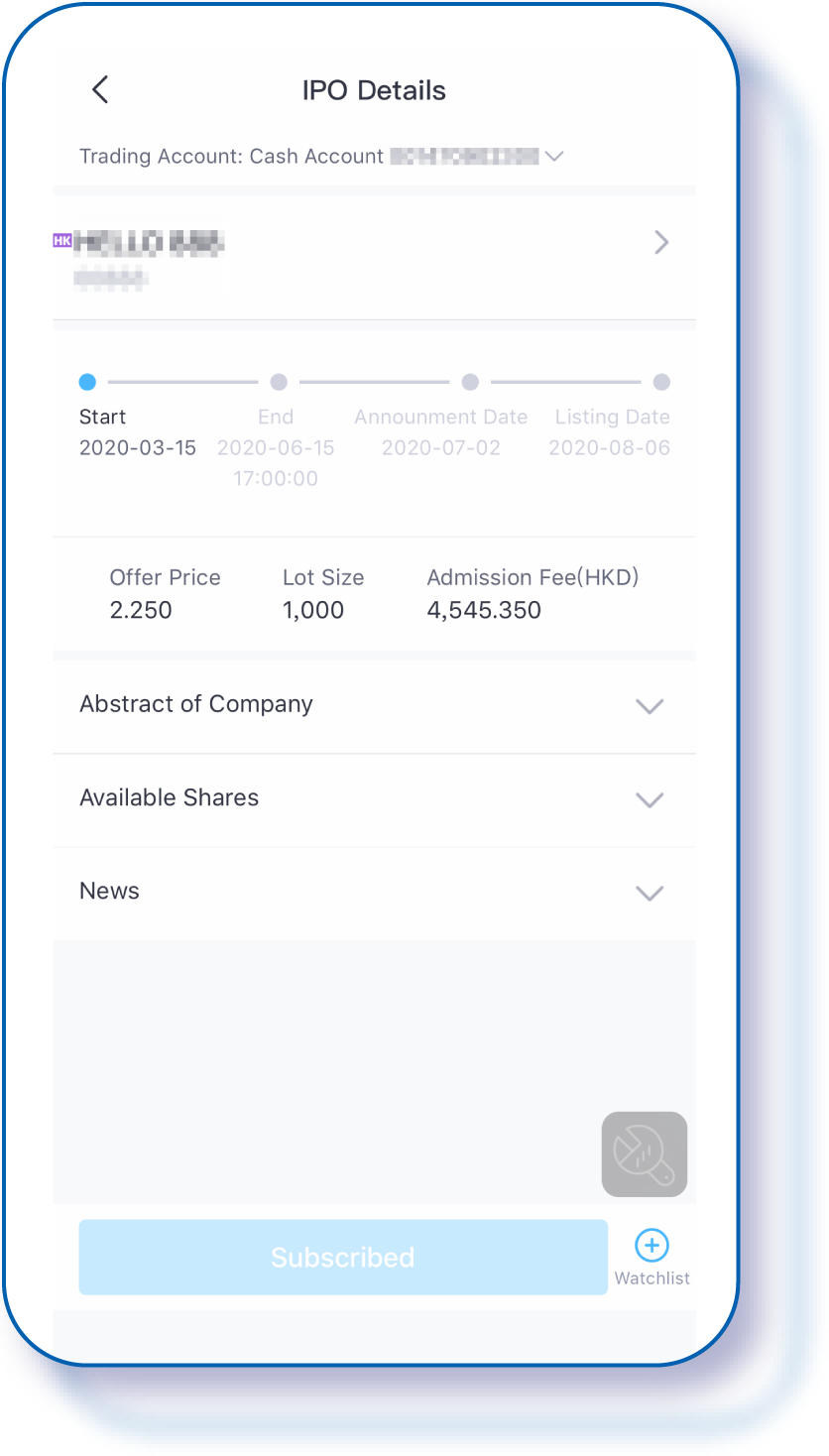 Timely respond to Corporate Announcements (e.g. dividends or stock options), so you never miss any opportunity!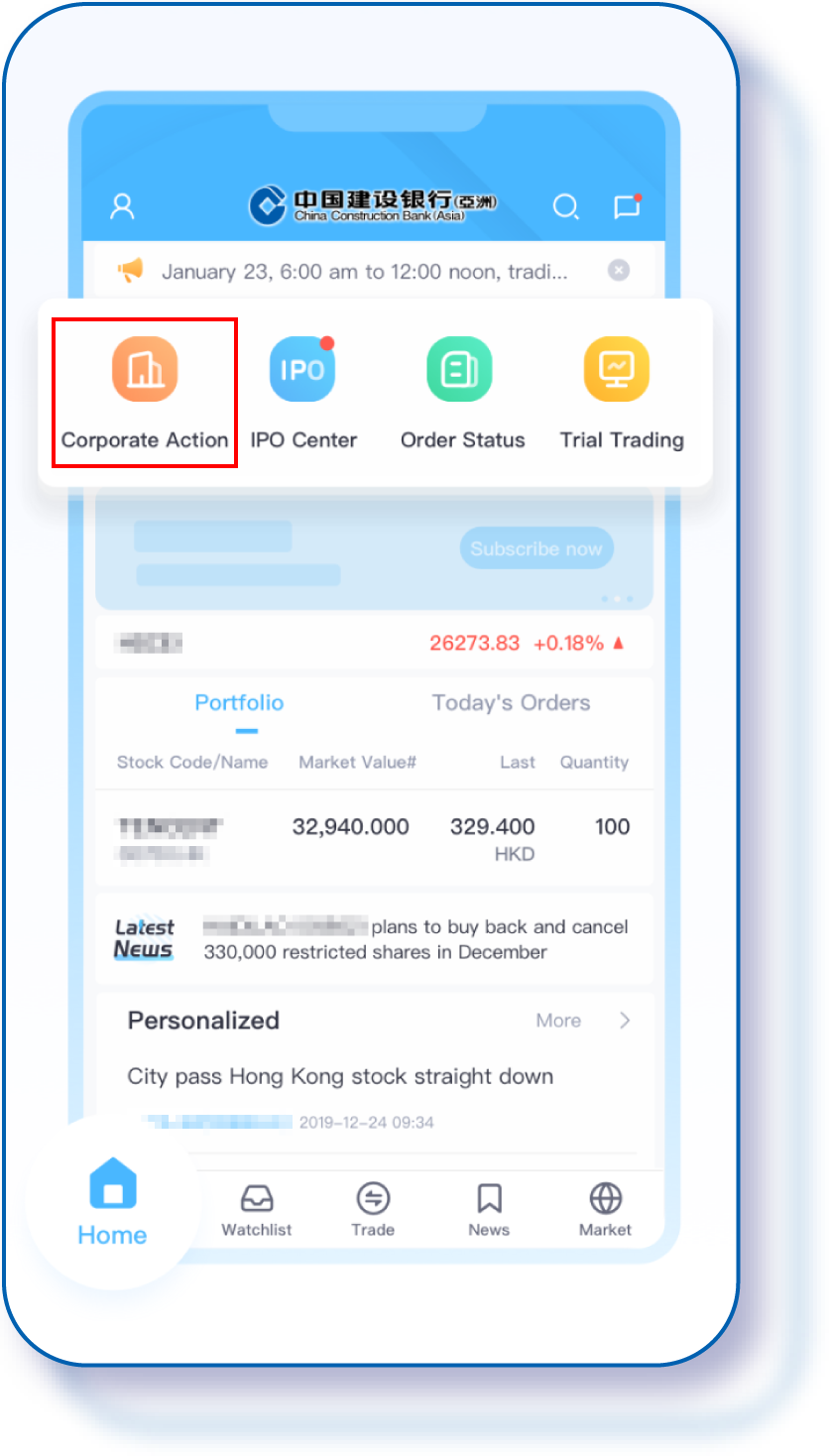 Overview of Other Functions


Amend / Cancel Orders

View Transaction Status / Records
View Transaction Portfolio / Settlement Records

Transfer Funds
To / From your Settlement / Margin Account(s)

Set up and view Investment eStatement

Notification Center

Real Time Streaming Quotes for Hong Kong Stocks2
The new version of the FortuneLink Mobile App will support Apple's iOS version 10.0 and Android's OS version 6.0 or above. Existing users of the StocksLink Mobile App can enjoy the new App by simply updating the StocksLink Mobile App via the App Store and Google Play, as appropriate; new users can simply download the FortuneLink Mobile App by searching 'CCB Asia' in the App Store or Google Play.
Please be informed that the new version of FortuneLink Mobile App will not support the following services/settings that you have activated in existing version of
StocksLink Mobile App
and you may need to activate the services/settings again in the new App:
Biometric Credential Logon Service
Stock Watch3
Language and Up/Down Color
Average Purchase Price4
The existing StocksLink Mobile App Service will be terminated after February, 2021, please update the StocksLink Mobile App to the new FortuneLink Mobile App before the termination date.
Remarks:
1 CCB (Asia) will further inform customers via the Bank's Homepage when the new FortuneLink Mobile App is available for download.
2 If a customer needs to order this service, please fill in the form and return it to the Bank.
3 The Stock Watch function of the FortuneLink Mobile App will not synchronize with the records currently held in our Online and Mobile Banking Services.
4 The Average Purchase Price records currently held are still available in our Online and Mobile Banking Service.
The above services are bound by the related terms and conditions. Please contact our staff for details.
To borrow or not to borrow? Borrow only if you can repay!
Risk Disclosure
Investment involves risks. The prices of investment products fluctuate, sometimes dramatically, and may become valueless. Investment products are not alternative of normal time deposits. Before making any investment decision, customers are encouraged to consult their own independent financial advisors and read the relevant offering documents in order to ensure that they fully understand the risks associated with the investment products.

Securities Trading
Investment involves risks. The price of securities fluctuates, sometimes dramatically. The price of a security may move up and down, and may become valueless. It is as likely that losses will be incurred rather than profits made as a result of buying and selling securities. Before investing, investors should understand the associated risks.

Securities Margin Trading
If a client maintains a margin account with the Bank, the risk of loss in financing a transaction by deposit of collateral is significant. The client may sustain losses in excess of the client's cash and any other assets deposited as collateral with the Bank. Market conditions may make it impossible to execute contingent orders, such as"stop-loss" or"stop-limit"orders. The client may be called upon at short notice to make additional margin deposits or interest payment. If the required margin deposits or interest payments are not made within the prescribed time, the client's securities collateral may be liquidated without the client's consent. Moreover, the client will remain liable for any resulting deficit in the client's account and interest charged on the client's account. The client should therefore carefully consider whether such a financing arrangement is suitable in light of the client's own financial position and investment objectives.

Shanghai-Hong Kong Stock Connect
Shanghai-Hong Kong Stock Connect is not covered by Hong Kong's Investor Compensation Fund. It involves risks of quotas used up, difference in trading day, restrictions on selling imposed by front-end monitoring, recalling of eligible stocks, and mainland market risks.

RMB Currency Risk
RMB is currently not freely convertible and is subject to exchange controls and restrictions (which are subject to changes from time to time without notice). You should consider and understand the possible impact on your liquidity of RMB funds in advance. The fluctuation in the exchange rate of RMB may result in losses in the event that you convert RMB into other currencies.

Online Investment Trading Services
Due to unpredictable network traffic congestion and other reasons, the Internet and other electronic media may not be reliable media of communication and transactions conducted over the Internet and via other electronic media are subject to: (i) possible failure or delay in the transmission and receipt of instructions for any or all transactions in investment products or other information, and (ii) possible failure or delay of execution or execution at prices different from those prevailing at the time when your instructions were given. There are risks associated with the online investment trading system, including the failure of hardware and/or software, and the result of any such system failure may be that your orders are either not executed according to your instructions or are not executed at all. There are risks of interruption, distortion, omission, blackout or interception during the transmission of instructions for any or all transactions in investment products, as well as of any misunderstanding or errors in communication.

Disclaimer
This webpage does not constitute advice to buy or sell, or an offer with respect to any investment products. Any offer, invitation or recommendation to any customers to enter into any investment transaction does not constitute any prediction of likely future movements in prices of any investment products. This webpage was issued by China Construction Bank (Asia) Corporation Limited, and has not been reviewed by the Securities and Futures Commission or any other regulatory authorities in Hong Kong.