Auto Loan
Hit the road in style
Drive home your dream car with our Auto Loan, an attentive one-stop solution that lets you enjoy the pleasure of driving!
We will contact you to explain the interest rate and repayment plan after application submitted.
Limited-time Online Application Offers (from now on to June 30, 2021)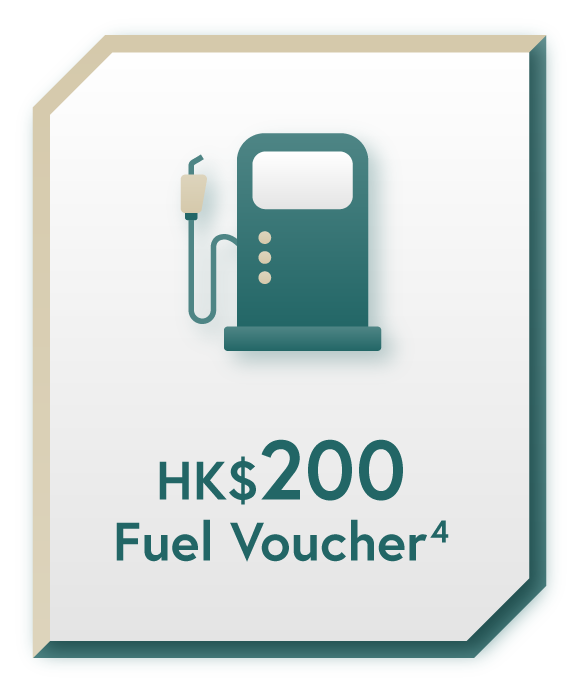 Get a HK$200 Fuel Voucher by successful auto loan online application and drawdown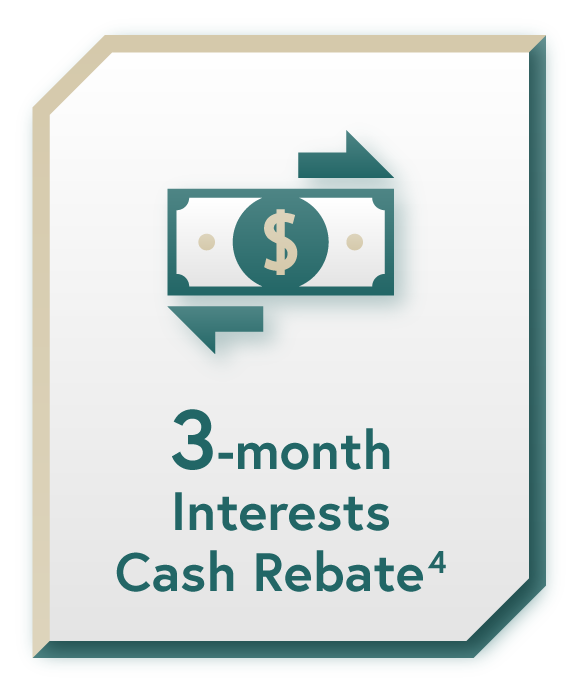 Enjoy 3-month interests cash rebate# after successfully repay the third installment
#Customers shall maintain or apply for one of following account or credit card to enjoy interest rebate:
A valid HKD Checking/Savings account or open a HKD Savings Account opened through e-Account Service of CCB (Asia), click here for ease e-Account opening!

Octopus Auto Living UnionPay Diamond Credit Card, click here to apply now!
Two modes

Hire Purchase (HP) - No down payment. The amount of monthly repayment will be calculated by dividing the total of Finance Amount and Total Interest Charge by the number of months constituting the Loan Tenor, with lower monthly installment.

Leasing (Leasing) - Request down payment that equals the number of years constituting the Loan Tenor plus one times of one Monthly Installment, e.g. 5 years Leasing requires 6 installments in advance. Could get a more favorable loan rate.

Click Auto Loan Calculator to check the repayment details

One-stop Loan Service

Whether you are buying a brand new or a second-hand car, our staff will follow through your loan application as well as handling the hassle like license renewal and insurance for you.

Loan Amount up to 100% of the car price

Borrow up to 100% of car price for a new car, or up to 90% for a second-hand car. The loan amount also covers accessories, registration fee, first year license fee and insurance to give you more financial flexibility.

Attractive Rates and Repayment Period

We offer competitive loan rates with repayment period up to 5 years.

Quick Process

We will process your application within 24 hours to get you in your dream car's driving seat quicker.*

*Excluding weekends and public holidays.
#Office hours: Monday - Friday 9:00 a.m. - 6:00 p.m. ; Closed on Saturdays, Sundays and Public Holidays.
To borrow or not to borrow? Borrow only if you can repay!
Terms and Conditions for CCB (Asia) Online Auto Loan Limited-time Offers program (the "Program"):
The Program - Only applicable to customers who apply for auto loans through the official website of China Construction Bank (Asia) Corporation Limited ("the Bank") within the Promotion Period ("Eligible Customers").
The Promotion Period is from February 1, 2021 to June 30, 2021 (both dates inclusive).The limited-time offers are as follows:

Offer No.
Offers
Remarks
1
HK$200 fuel voucher

Application shall be successfully submitted within the Promotion Period.
All required documents shall be successfully submitted within the Promotion Period.
Application approved and drawdown successfully.
Will be mailed to the correspondence address of auto loan application within 3 months after drawdown

2
3-month interests cash rebate

Repay in accordance with agreement after drawdown and successfully repay the 3rd installment.
Calculated by dividing total interest charge by loan tenors and multiplied by 3, and capped at HK$5,000
Will be credited to Eligible Customers' (i) HKD Savings Account of the Bank, or (ii) Octopus Auto Living UnionPay Diamond Credit Card within 3 months after the 3rd repayment.

The Bank reserves the right to approve the auto loan. Your eligibility to enjoy the promotion shall be subject to your credit status and loan approval results with the Bank's review. Customers whose applications fail to be approved could not enjoy the two Offers of the Program.
HK$200 fuel voucher and 3-month interests cash rebate are limited in quantity, on a first come first served basis.
The 3-month interests cash rebate is applicable to loan tenor of 36 months or above only and shall be calculated by average interest (total interest charge divided by loan tenors) of Eligible Customers' repayment.
The validity and use of the fuel vouchers under the Program shall be subject to the relevant usage instructions and terms and conditions set by the supplier. The Bank shall not act as, or assume any liability of, the vouchers supplier (or its agent). Any claim, complaint, or dispute concerning the fuel vouchers must be referred to and resolved between the relevant supplier and the customers, which shall in no way relieve such customer from his / her, payment or other obligations (if any) to the Bank.
Eligible Customers can enjoy the Offers once only. Offer No. 1 can be used in conjunction with Offer No. 2.
The Bank reserves the right to amend or terminate these Terms and Conditions at any time at its sole and absolute discretion. In case of any dispute, the decision of the Bank shall be final.
In case of any inconsistency between English and Chinese versions of these Terms and Conditions, the English version shall prevail.