Perpetual Annual
Fee Waiver
Exclusive Application Offer
Successfully apply to get:
Up to
Cash Out Interest-Free
Cash Installment
Up to HKD60,000 Cash Out Interest-Free Cash Installment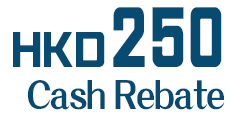 HKD250 Cash Rebate
Please click here for the Terms & Conditions of the Welcome Gifts.
Above photos are for reference only.
# Office hours: Monday – Friday 9:00a.m. – 6:00p.m.; Closed on Saturdays, Sundays and Public Holidays
To borrow or not to borrow? Borrow only if you can repay!